News – WA
End of Year Forum 2018
Dial Before You Dig WA's End of Year Forum is on Wednesday 28th November and we would love for you to attend.
Reserve your spot now and take advantage to network with Dial Before You Dig Industry Partners and Users of the service.
Hear from industry leading experts and learn more about your vast networks of infrastructure assets and how to work safely around them.
Please RSVP by Wednesday 21st November for catering purposes.
Thank you to our event sponsor C.R. Kennedy.
News
Click on the links below to read the latest news from Dial Before You Dig – WA.
If you would like to stay up to date on the latest news from Dial Before You Dig, follow us on Social Media (see below, Connect With Us) or subscribe to the Dial Before You Dig newsletter which can be found on the homepage under "Subscribe".
2018
Newsletter
2017
Newsletter
Oceania Damage Prevention Conference 2018
Highlights from the Oceania Damage Prevention Conference held on the Gold Coast. Thank you to all our sponsors, exhibitors and delegates, the conference would not have been possible without you!
Justin Scotchbrook, State Manager WA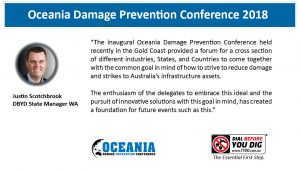 Annual Reports
Feedback