News – WA
IPWEA State Conference – 14th – 15th March 2019
IPWEA WA are holding their State Conference next week and Dial Before You Dig WA are pleased to be attending. The Conference Theme – Challenges and Solutions – will focus on the various challenges facing the Public Works industry. The Program includes two full engaging days of keynote speakers and presentations that cover a wide range of public works and services. This is the perfect opportunity to network with industry experts and our very own Dial Before You Dig WA team.
News
Click on the links below to read the latest news from Dial Before You Dig – WA.
If you would like to stay up to date on the latest news from Dial Before You Dig, follow us on Social Media (see below, Connect With Us) or subscribe to the Dial Before You Dig newsletter which can be found on the homepage under "Subscribe".
2018
Newsletter
2017
Newsletter
Oceania Damage Prevention Conference 2018
Highlights from the Oceania Damage Prevention Conference held on the Gold Coast. Thank you to all our sponsors, exhibitors and delegates, the conference would not have been possible without you!
Justin Scotchbrook, State Manager WA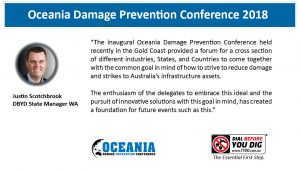 Annual Reports
Feedback