News
Important Announcement – New One Day Rule
From 1st July 2019 you will be able to lodge an enquiry to obtain asset location information from the Dial Before You Dig referral service for work that you would like to commence the next business day. This change (from a 2 to 1 day horizon to register a project) is being introduced in response to user feedback and the changing nature of work.
This includes a significant and continuing increase in the use of mobile app enquiries (smart phones) which now account for nearly 18% of enquiries lodged and the increasing use of digitised data and automated responses by asset owners to enquiries. This change will make it easier to register an enquiry.
This next day business rule will apply if the enquiry is lodged before 7:00pm (Melbourne Time) after which the start will roll over to the following day.
It does not change the Duty of Care responsibility to obtain all necessary information and take all reasonable precaution to prevent damage and injury prior to commencing work. This is highlighted in the Duty of Care statement that is provided on all enquiry confirmations.
Watch the video:
Click on the links below to read the latest news from Dial Before You Dig.
Updates
NBN / DBYD Future Direction – External Article
Dial Before You Dig are always pleased to work together and promote the fine work that our Members do to contribute to the protection of Australia's infrastructure networks.
Following feedback from the inaugural Oceania Damage Prevention Conference, NBN's Executive General Manager, Darren Mills set up a project team to review its plans and has made significant improvements which will help to identify NBN assets and reduce damage and injury.
To read the full article click here.
If any Asset Owner would like to know how they can improve on their plans and / or information provided to Enquirers, Dial Before You Dig are here to assist. Fill in this form and an appropriate Dial Before You Dig Staff will be in contact.
2019
Newsletter
If you would like to stay up to date on the latest news from Dial Before You Dig, follow us on Social Media (see below, Connect With Us) or subscribe to the Dial Before You Dig newsletter which can be found on the homepage under "Subscribe".
Dial Before You Dig News – Issue 42
2018
Past News
A special Australian edition of the Damage Prevention Professional Magazine was released to promote the upcoming Oceania Damage Prevention Conference. The content is specifically tailored for Australian stakeholders serious about damage prevention and the issues faced in the industry. The magazine is a must read for anyone serious about damage prevention intiatives.
The content will be revised after the Oceania Damage Prevention Conference to ensure that it is current.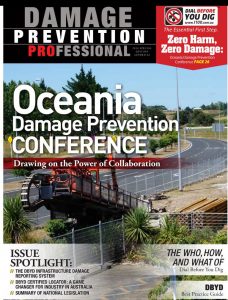 Oceania Damage Prevention Conference 2018 – Queensland, Australia
Highlights from the Oceania Damage Prevention Conference held on the Gold Coast. Thank you to all our sponsors, exhibitors and delegates, the conference would not have been possible without you.
Stuart Burdack, CEO AADBYDS
Graeme Allan, Operations Manager AADBYDS
Benefits of attending ODPC included:
Raising your profile in the industry by participating in a historic event
Engage and collaborate with industry personnel
Develop personal and direct relationships with clients
Show your full product / service range; live events provide the best possible interactive marketing platform
Directly influence market with knowledge of damage prevention initiatives led by your organisation
Overcome objections and accelerate the buying process
Display products and services to key decision makers
Locate new users and channels for your products
Feedback