News
DIAL BEFORE YOU DIG CEO STUART BURDACK SAYS FAREWELL
Stuart Burdack, CEO of the national DBYD organisation has announced that he will be leaving the organisation on 31 December. Neil Weatherly, Chair of Australian Association of Dial Before You Dig Services, said that Stuart will be greatly missed after 4 ½ years in the role.
"Mr Burdack is a CEO of high integrity, is hardworking and has provided strong and reliable leadership to DBYD during his time as CEO. This has included leading the organisation in planning and delivering a range of major projects including the development of our service blueprint for the future, and successfully delivering a technology transformation which went live for our 950 Members and 90,000 users of the service in July this year".
Mr Burdack said that he was proud to have served as CEO of DBYD and it was now time to hand the reigns to someone else to deliver the organisational transformation component of DBYD NextGen.
"I have enjoyed working with the passionate and engaged DBYD community and am proud, together with our dedicated staff and the national board to have delivered organisational innovation and efficiency, resulting in significant state Membership fee reductions, a strategic blueprint to future proof DBYD, and the successful delivery of phase 1 of the DBYD NextGen technology transformation, providing a greatly enhanced referral service.
Chair Weatherly said that DBYD will immediately commence the recruitment process for a new CEO to lead the next phase of the organisational transformation.
MEDIA RELEASE
September 2021
DBYD NextGen Leads the World in Digital Damage Prevention 
Monday 13th July 2020
Deloitte and Esri Australia to deliver enhanced Dial Before You Dig Service
Updates
NBN / DBYD Future Direction – External Article
Dial Before You Dig are always pleased to work together and promote the fine work that our Members do to contribute to the protection of Australia's infrastructure networks.
Following feedback from the inaugural Oceania Damage Prevention Conference, NBN's Executive General Manager, Darren Mills set up a project team to review its plans and has made significant improvements which will help to identify NBN assets and reduce damage and injury.
To read the full article click here.
If any Asset Owner would like to know how they can improve on their plans and / or information provided to Enquirers, Dial Before You Dig are here to assist. Fill in this form and an appropriate Dial Before You Dig Staff will be in contact.
Newsletter
Click on the links below to read the latest news from Dial Before You Dig.
If you would like to stay up to date on the latest news from Dial Before You Dig, follow us on Social Media (see below, Connect With Us) or subscribe to the Dial Before You Dig newsletter which can be found on the homepage under "Subscribe".
2021
2020
Past News
A special Australian edition of the Damage Prevention Professional Magazine was released to promote the upcoming Oceania Damage Prevention Conference. The content is specifically tailored for Australian stakeholders serious about damage prevention and the issues faced in the industry. The magazine is a must read for anyone serious about damage prevention intiatives.
The content will be revised after the Oceania Damage Prevention Conference to ensure that it is current.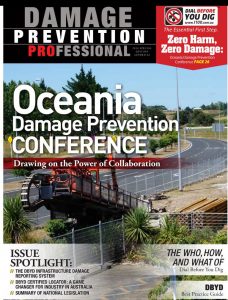 Oceania Damage Prevention Conference 2018 – Queensland, Australia
Highlights from the Oceania Damage Prevention Conference held on the Gold Coast. Thank you to all our sponsors, exhibitors and delegates, the conference would not have been possible without you.
Stuart Burdack, CEO AADBYDS
Graeme Allan, Operations Manager AADBYDS
Benefits of attending ODPC included:
Raising your profile in the industry by participating in a historic event
Engage and collaborate with industry personnel
Develop personal and direct relationships with clients
Show your full product / service range; live events provide the best possible interactive marketing platform
Directly influence market with knowledge of damage prevention initiatives led by your organisation
Overcome objections and accelerate the buying process
Display products and services to key decision makers
Locate new users and channels for your products
Feedback